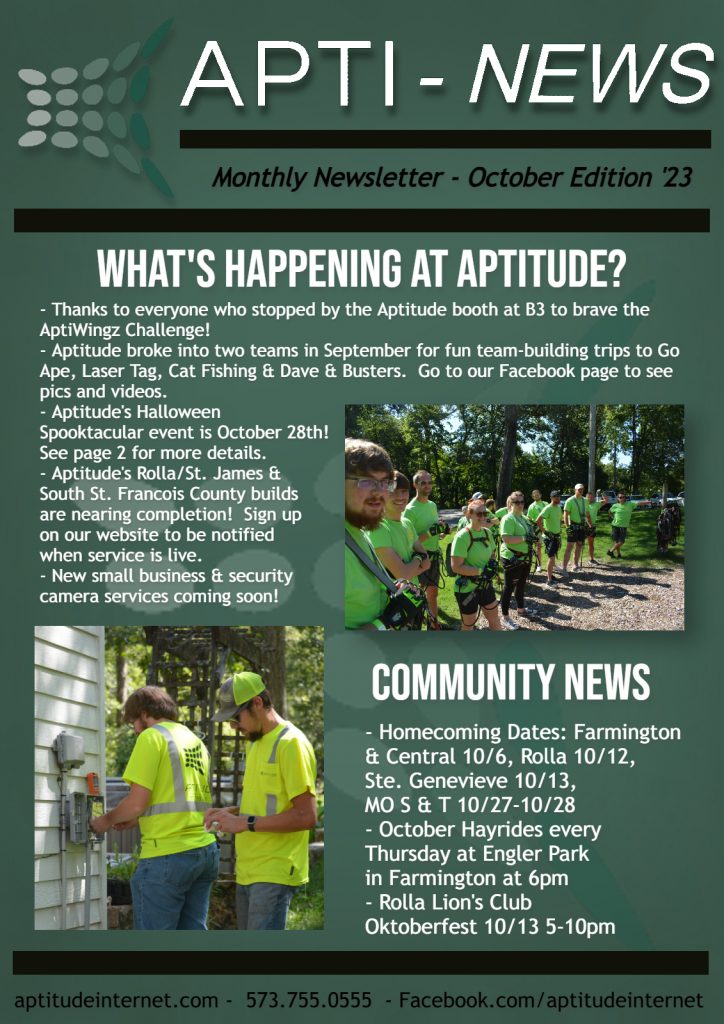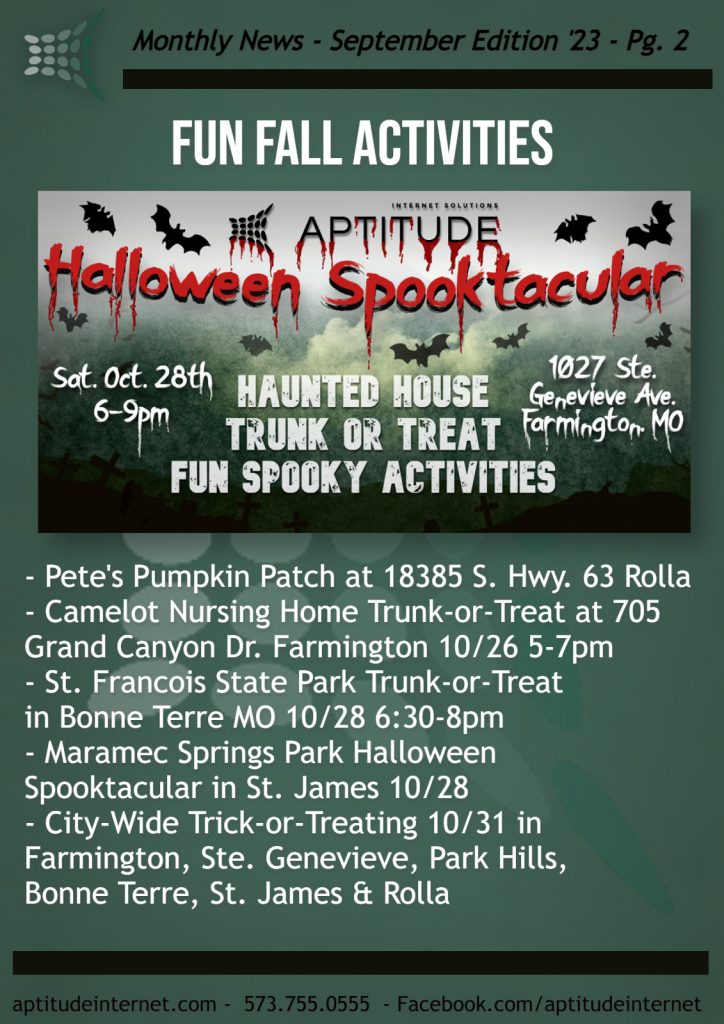 Apti-News Monthly Newsletter – October Edition '23
WHAT'S HAPPENING AT APTITUDE?
Thanks to everyone who stopped by the Aptitude booth at Blues Brews and Barbeque (B3) to brave the AptiWingz Challenge!
Aptitude broke into two teams in September for fun team-building trips to Go Ape, Laser Tag, Cat Fishing & Dave & Busters. Go to our Facebook page to see pics and videos.
The Aptitude Halloween Spooktacular event is October 28th! See page 2 for more details.
Aptitude's Rolla/St. James & South St. Francois County builds are nearing completion! Sign up on our website to be notified when service is live at https://elevate.aptitudeinternet.com/
New small business & security camera services are coming soon!
COMMUNITY NEWS
Homecoming dates: Farmington & Central 10/6, Rolla 10/12, Ste. Genevieve 10/13, MO S&T 10/27-10/28
October Hayrides every Thursday at Engler Park in Farmington at 6PM
Rolla Lion's Club Oktoberfest 10/13 5-10PM
FUN FALL ACTIVITIES
Aptitude Halloween Spooktacular, Sat. Oct. 28th 6-9PM, 1027 Ste. Genevieve Ave, Farmington, MO – Haunted House, Trunk or Treat, Fun Spooky Activities
Pete's Pumpkin Patch, 18385 S. Hwy 63, Rolla
Camelot Nursing Home Trunk-or-Treat at 705 Grand Canyon Dr., Farmington 10/26 5-7PM
St. Francois State Park Trunk-or-Treat in Bonne Terre, MO 10/28 6:30 – 8PM
Maramec Spring Park Halloween Spooktacular in St. James 10/28
Citywide Trick-or-Treating 10/31 in Farmington, Ste. Genevieve, Park Hills, Bonne Terre, St. James & Rolla